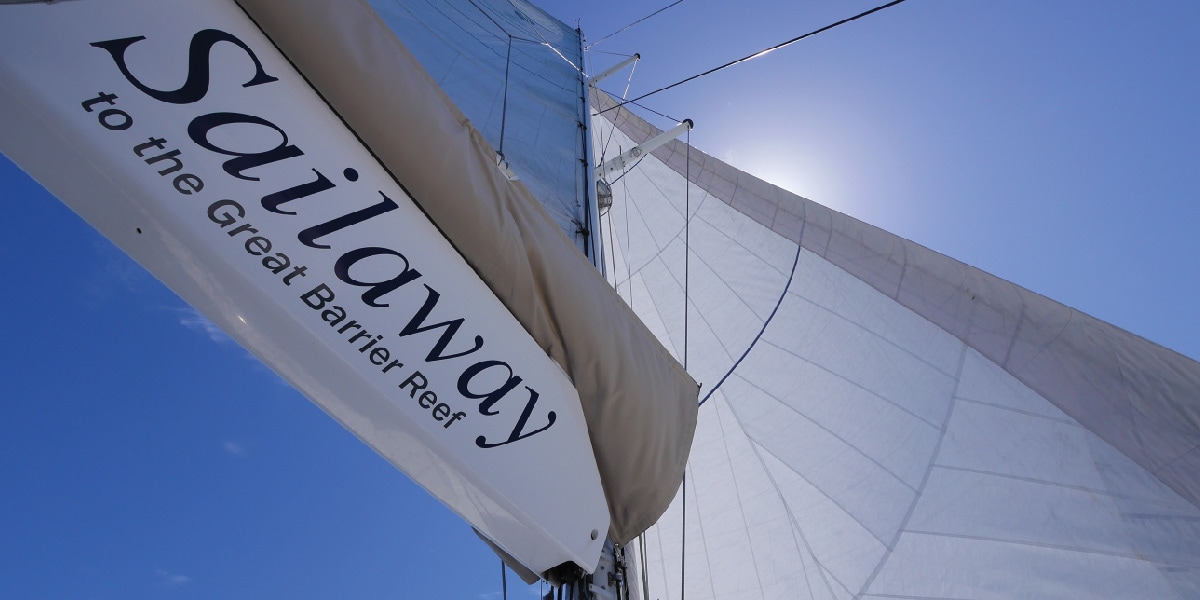 Vessels

Ultimate Luxury
& Service
Sailaway owns and operates four luxury sailing catamarans. Using mostly wind power, these beautiful yachts are the perfect way to get to the Great Barrier Reef.
Sailaway VII
Custom built Sailing Catamaran
Sailaway VII is an Australian designed and custom built sailing catamaran. The Edmondsons purchased this vessel in September 2018. This boat has presence! It's large, at 25 metres in length and 10.5 metres beam. Fast and sleek, it cuts through the water with ease. With large spacious foredeck areas and air conditioned saloon, its extremely comfortable with plenty of space. It has easy access off the back transoms for snorkellers to get in and out of the water. New sails were installed recently which is a beautiful sight when sailing.
Refreshingly different – This is the most comfortable way to travel to the outer reef.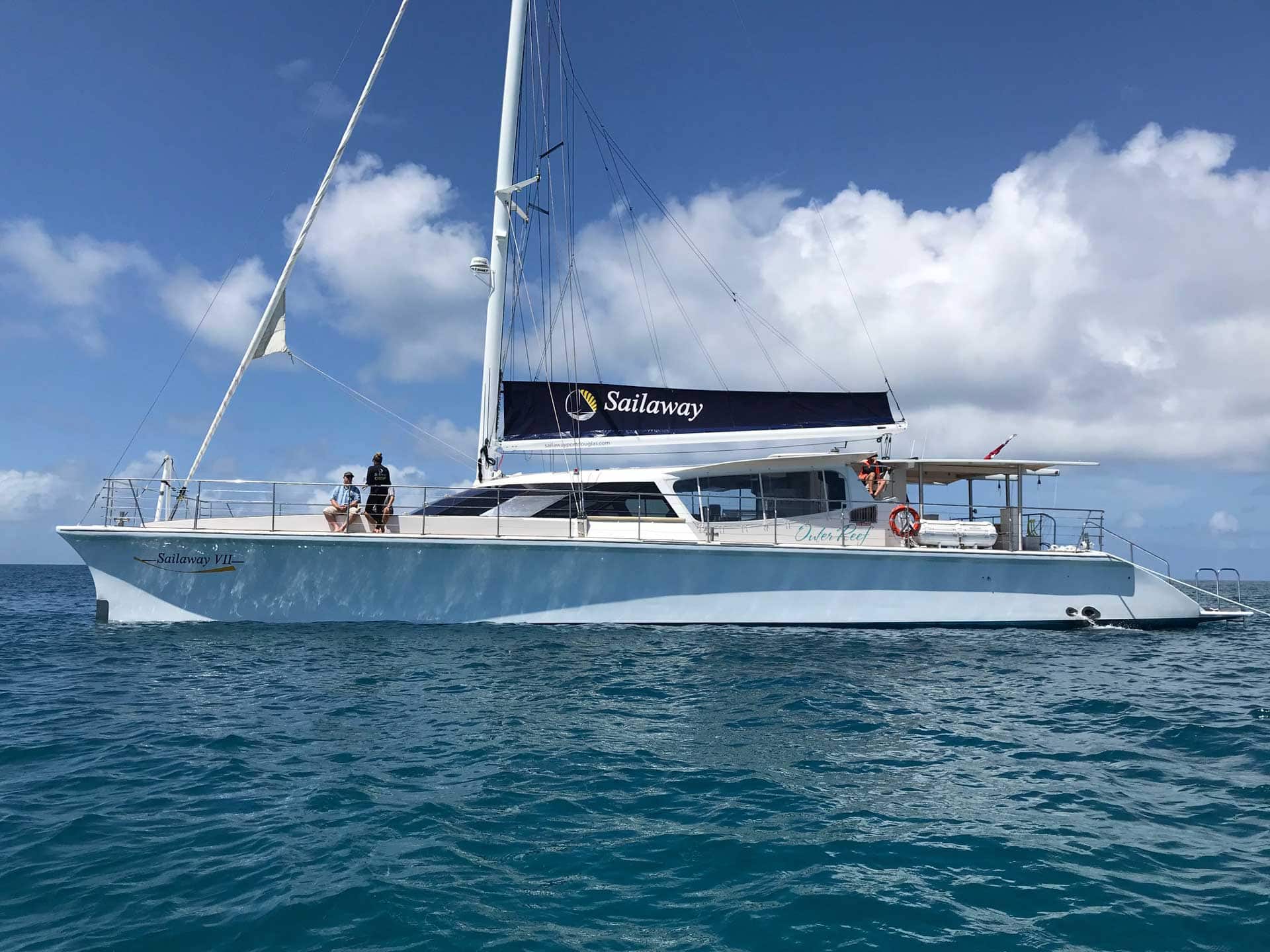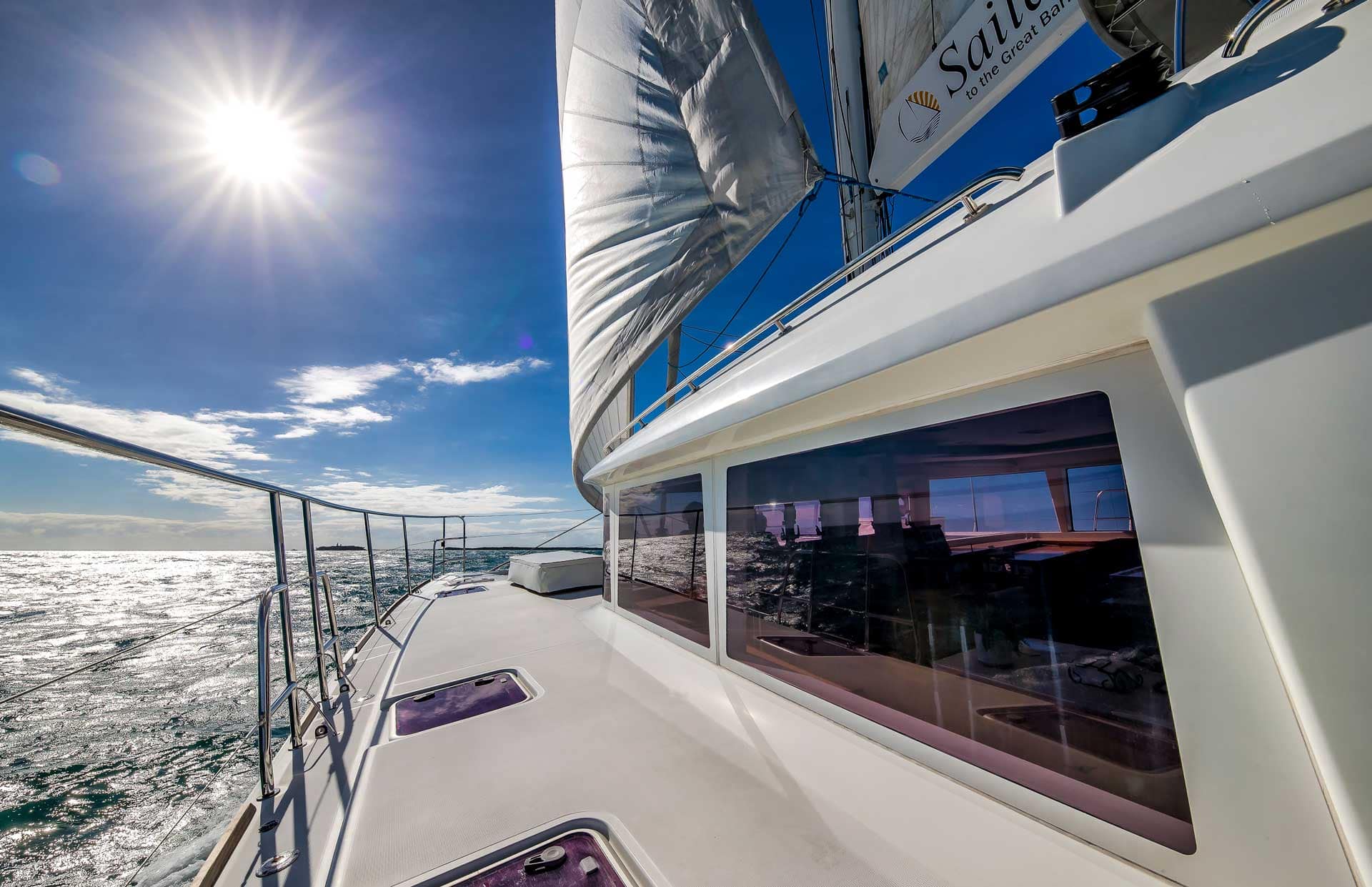 Sailaway VI
Lagoon 560 Catamaran
Sailaway VI is a stunning Lagoon 560 sailing catamaran. Built in France, this vessel was purchased by the Edmondson's in Panama. They spent time on board with their children, to prepare the vessel for the journey to Australia, before handing it over to a professional delivery crew. They put Sailaway VI into Queensland Survey, after a few modifications to meet the AMSA standards, Sailaway VI commenced daily operations to Low Isles and Sunset Sailing.
This vessel is high end luxury and a high performance sailing catamaran and we're pleased to share the experience of sailing on such a beautiful yacht with our guests. With plenty of room on board, people can relax on the upstairs flybridge area and chat with the Skipper, or laze on the foredecks and enjoy the splash of the waves and wind. Inside is air conditioned with a large under cover outdoor saloon area.
Operated primarily by wind power, this is the most sustainable and environmentally friendly way to travel to the Great Barrier Reef.
Sailaway IV & V
Lagoon 500 Catamaran
Sailaway IV was the first Lagoon 500 production boat built by Lagoon in Bordeaux France to arrive in Australia. Now based in Port Douglas, Sailaway IV operated for 10 years to Low Isles and started the Sunset Sailing product. This beautifully maintained yacht is available for private charter for small groups wanting a special day out.
Sailaway V is the sister ship, another Lagoon 500 Catamaran purchased in Fremantle and sailed to Port Douglas. Sailaway V is the yacht going to Low Isles every afternoon for an adults only experience. These Lagoon 500's are spectacular sailing vessels. They move smoothly and comfortably across the ocean, offering our guests a unique Great Barrier Reef experience unmatched by other operators.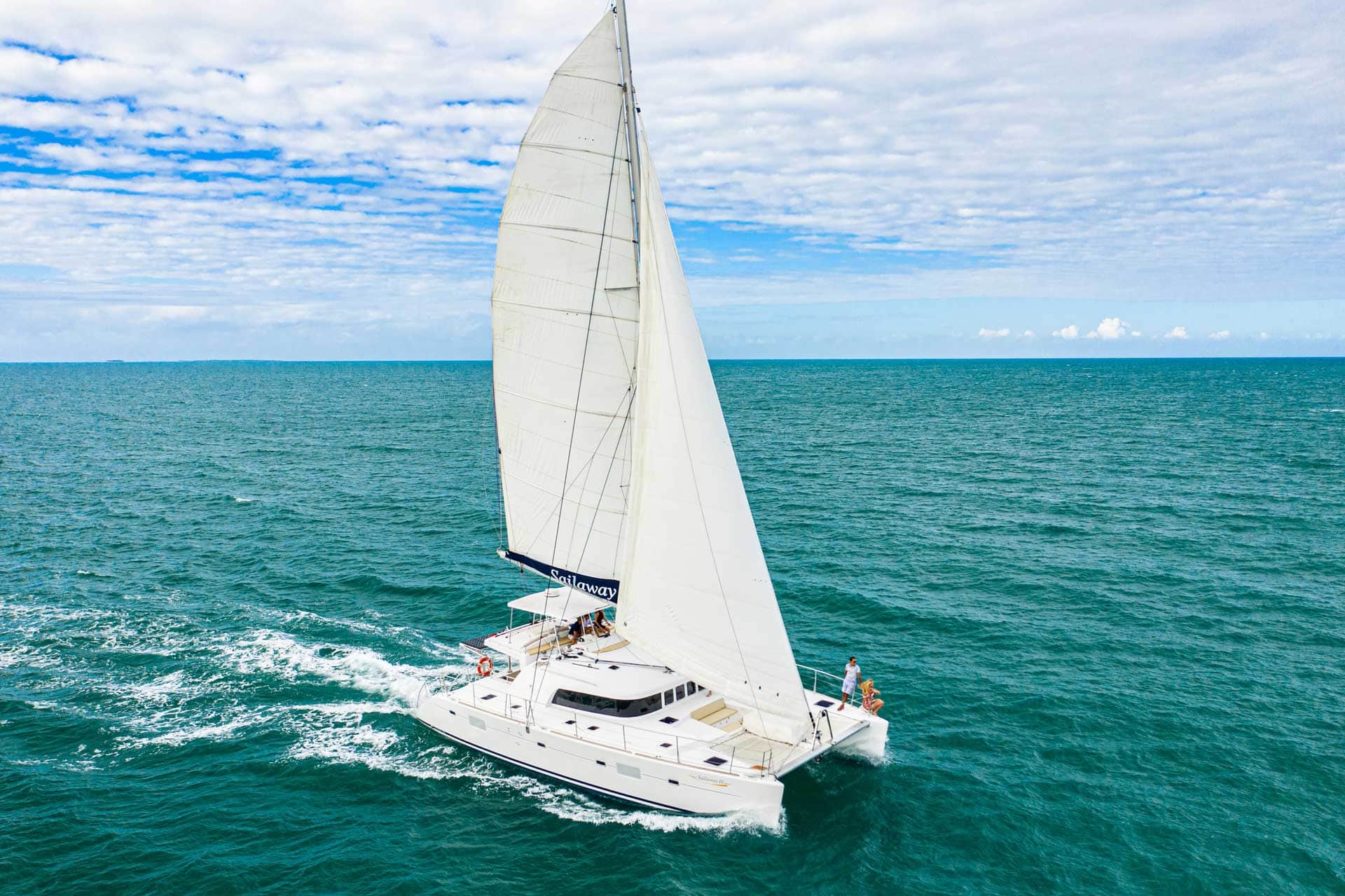 Discover Sailaway's Reef Destinations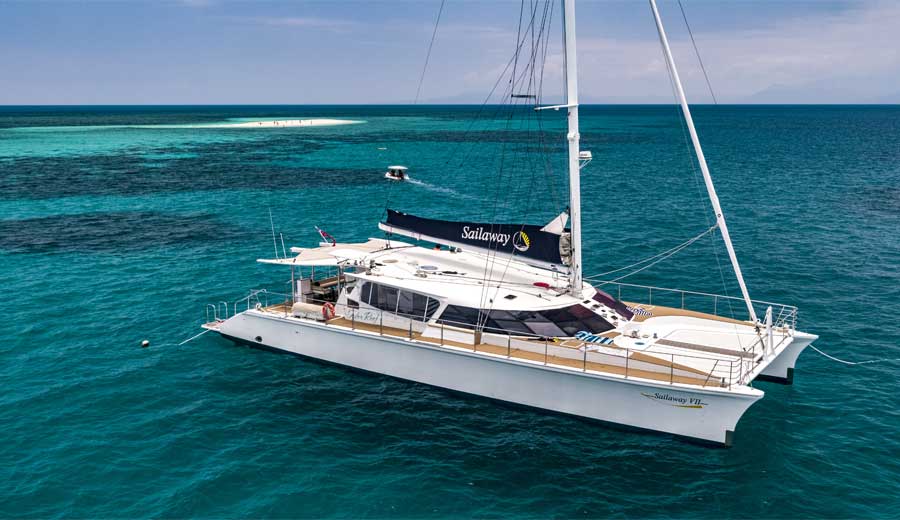 MACKAY CORAL CAY
The Coral Cays are pure white sand surrounded by a large fringing reef system and crystal clear water.
Sailaway is the only operator from Port Douglas who has access to visit Mackay Coral Cays. This exclusivity means we have the area to ourselves to explore without restrictions.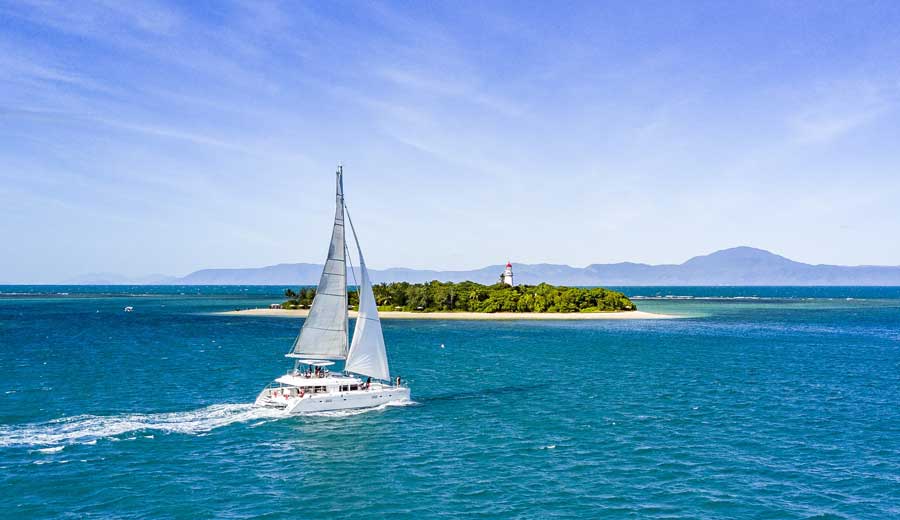 Low Isles
Low Isles is an idyllic Coral Cay island. The reef around Low Isles comprises 150 species of hard corals and is dominated by 15 species of soft corals.
Guests of Sailaway have the opportunity to snorkel in the lagoon of the island with our marine biologist, offering an interesting and informative tour.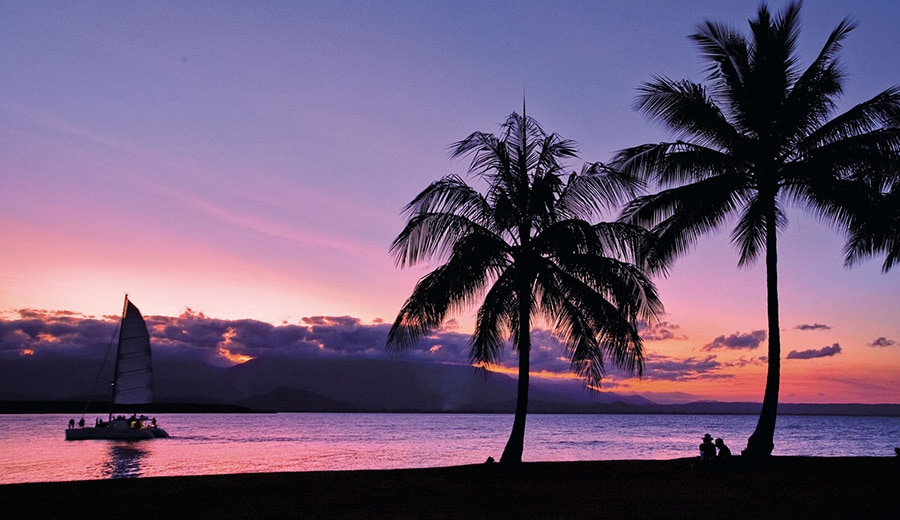 Sunset Sailing
Enjoy the thrill of pure sailing. A must do when visiting Port Douglas is to relax with an exhilarating cruise on board this first class sailing catamaran.
Soak up the peace and tranquillity of a tropical sunset over the Coral Sea as you sail along the coast off Far North Queensland.
Sailaway Loyalty Club
Receive 10% discount on your second Sailaway experience - simply contact our friendly reservations team to book. Conditions apply.