Sailaway Special Offers
Sailaway has a range of fantastic reef and island tours to the Great Barrier Reef and Sunset Sailing.
We are delighted to share some wonderful specials for you to consider when planning your holiday.
Sailaway Loyalty Club
Join the Sailaway Loyalty Club by enjoying multiple Sailaway experiences. We offer a great incentive to experience more than one Sailaway tour and as a valued Sailaway customer we invite you to book another trip and receive a 10% discount on your second tour. Many visitors like to see both Low Isles and the Outer Reef, what better way to do this than enjoying the Sailaway philosophy of small numbers of guests, premium service by experienced helpful crew, onboard stunning sailing catamarans and visiting the top reef and island locations.
Simply contact us to book your second Sailaway tour and our staff will apply the discount for you.
Conditions: Applicable to all Sailaway tours as an incentive to enjoy both the Outer Reef, Low Isles and Sunset Sail • Travel must be within the same holiday period • Non transferable, must be same passenger name • Applies to family fare • Book direct with Sailaway or via your travel agent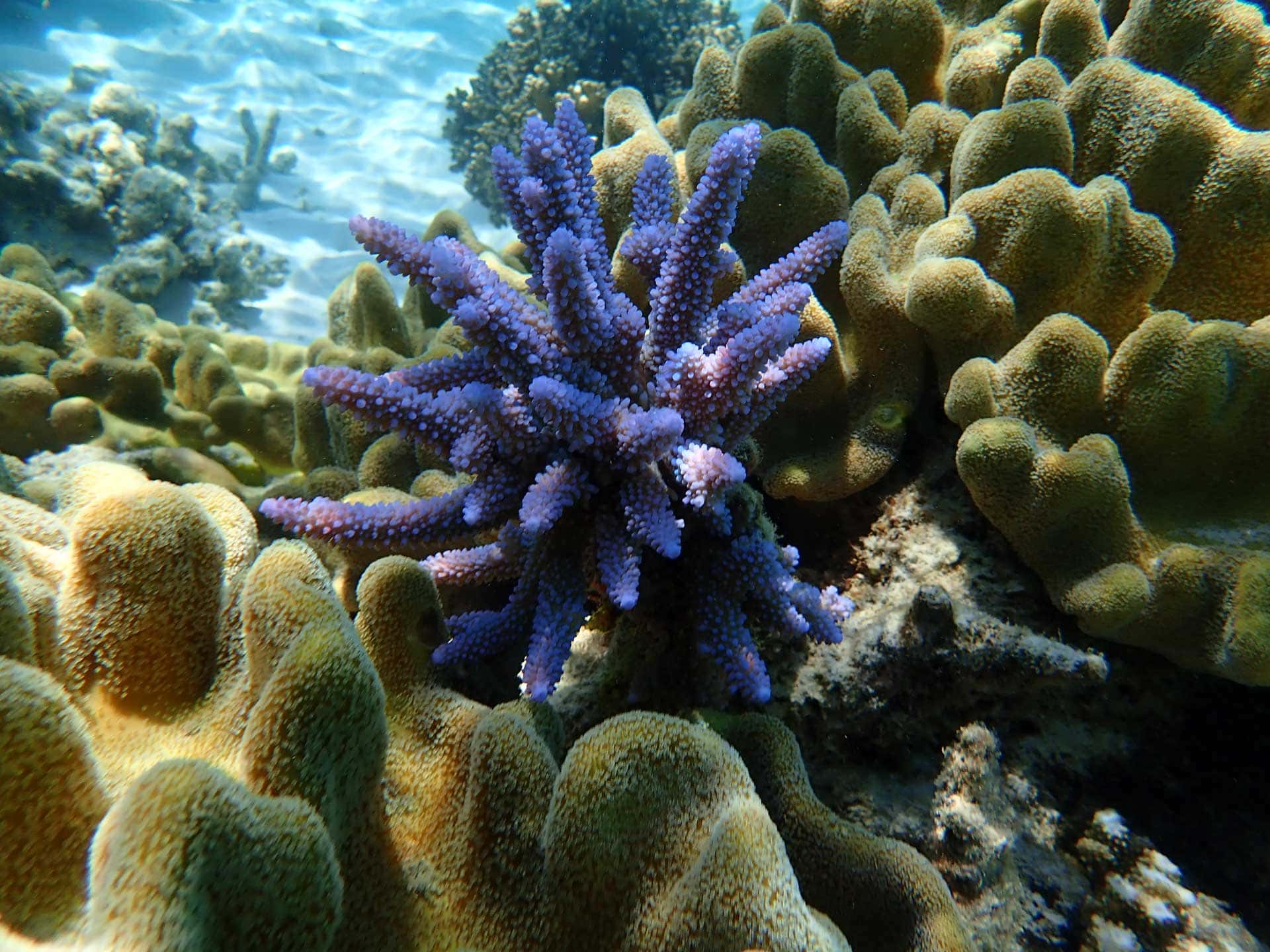 Add these luxury upgrades to your online booking and experience the best of Sailaway's service.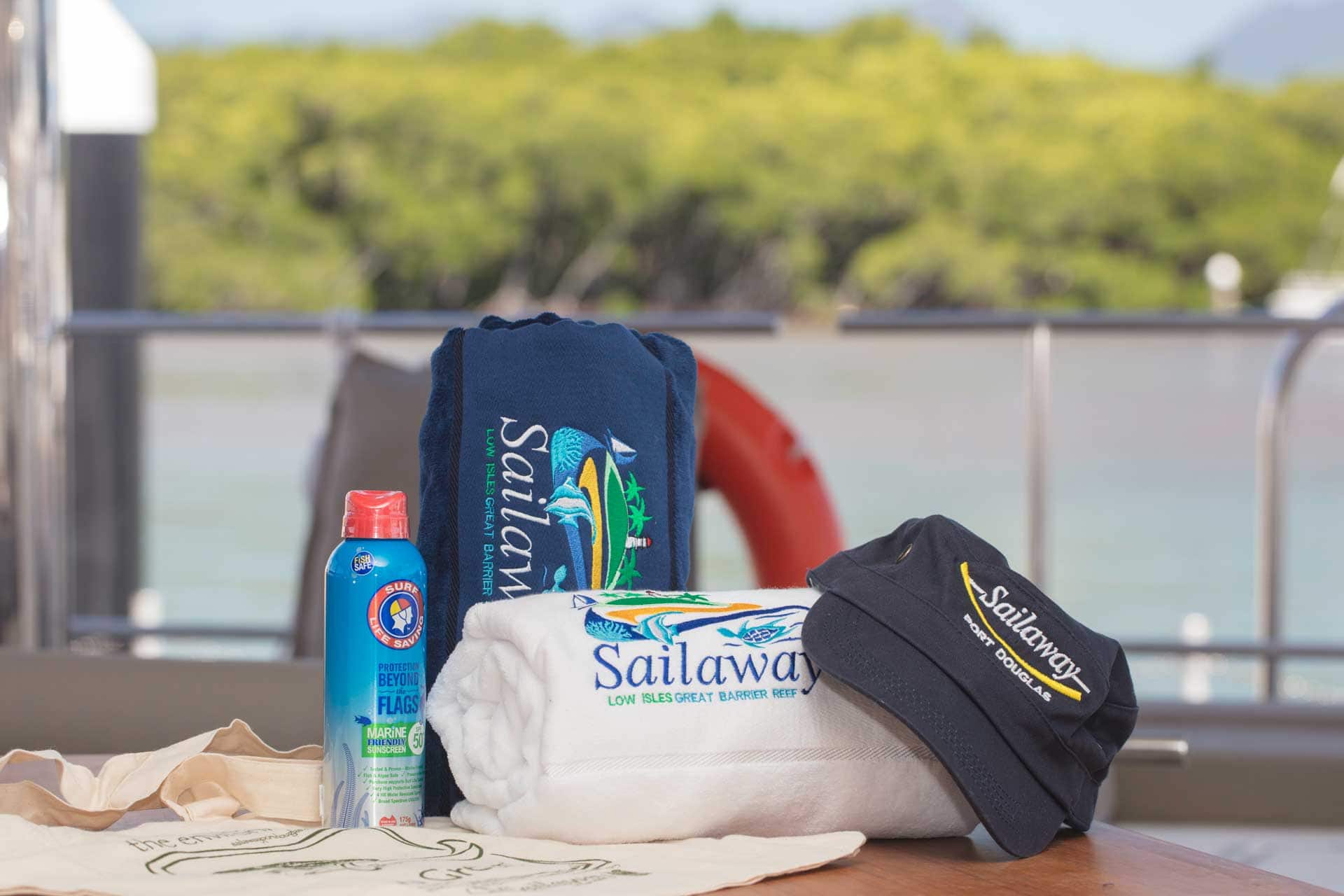 Enjoy a perfect souvenir of your time in the tropical sun with a quality embroidered Sailaway beach towel (navy or white) and sun hat, reef friendly sunscreen and re-useable calico beach bag. Presented at time of check-in to use and keep.
Celebrating a special occasion with family & friends? Treat yourself to a chilled bottle of French Champagne, Moët & Chandon (750mL). A perfect way to enjoy a memorable moment sailing over the Coral Sea. Served to you onboard the luxury catamaran with ice bucket and champagne flutes.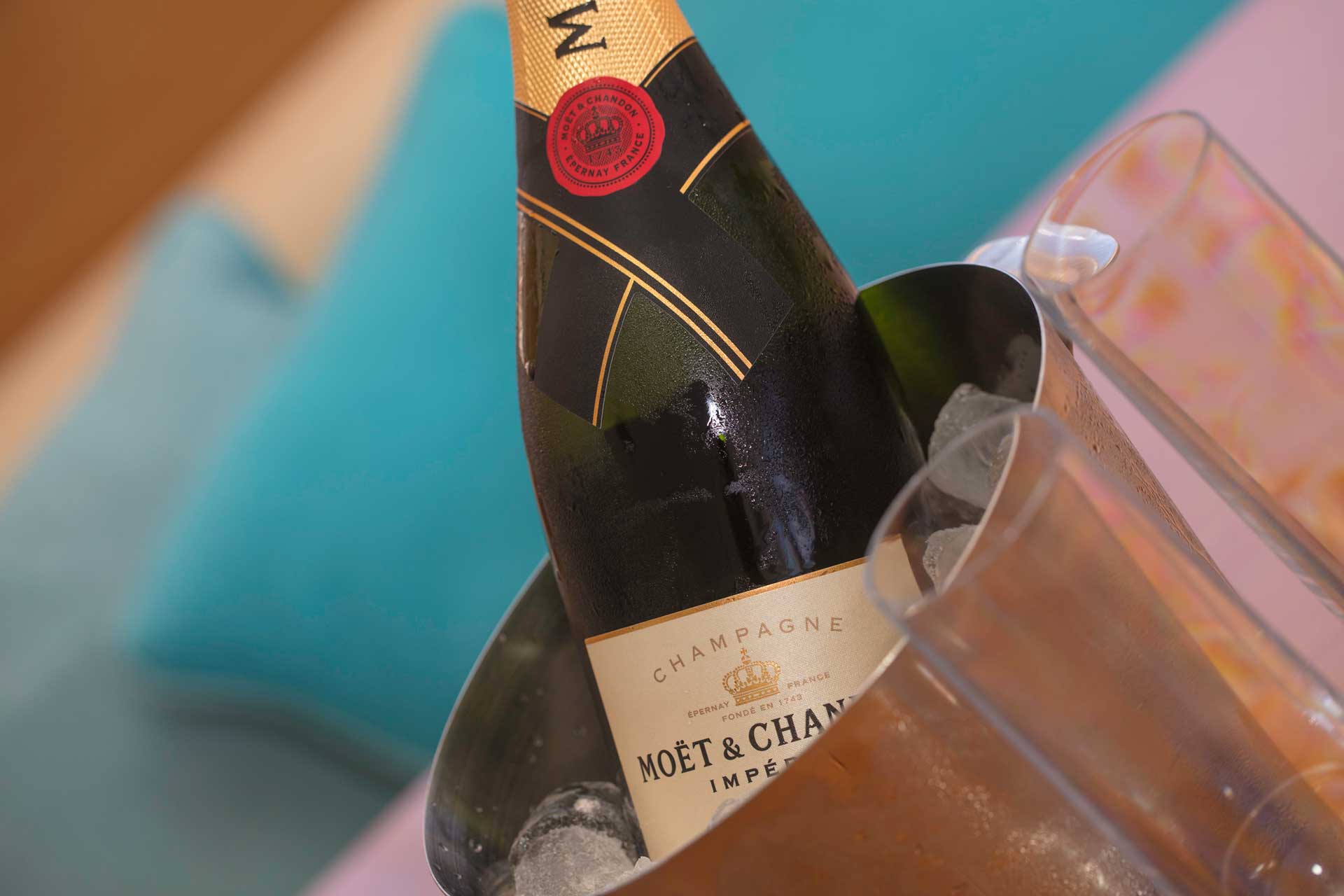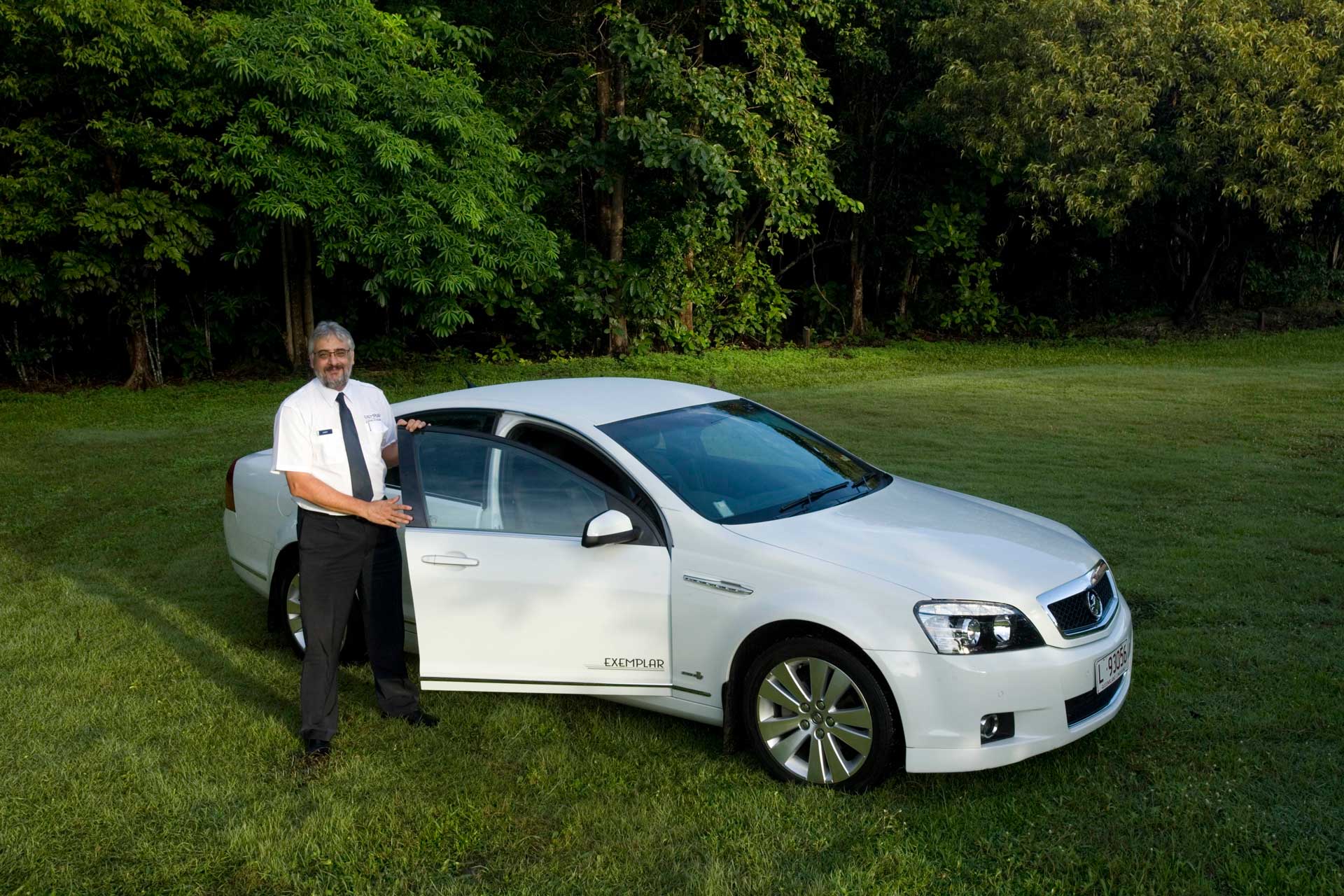 Private Chauffeur Transfers
Treat yourself to a private chauffeur return transfer, personally escorted from your accommodation to the Crystalbrook Superyacht Marina and Sailaway.
Discover Sailaway's Reef Destinations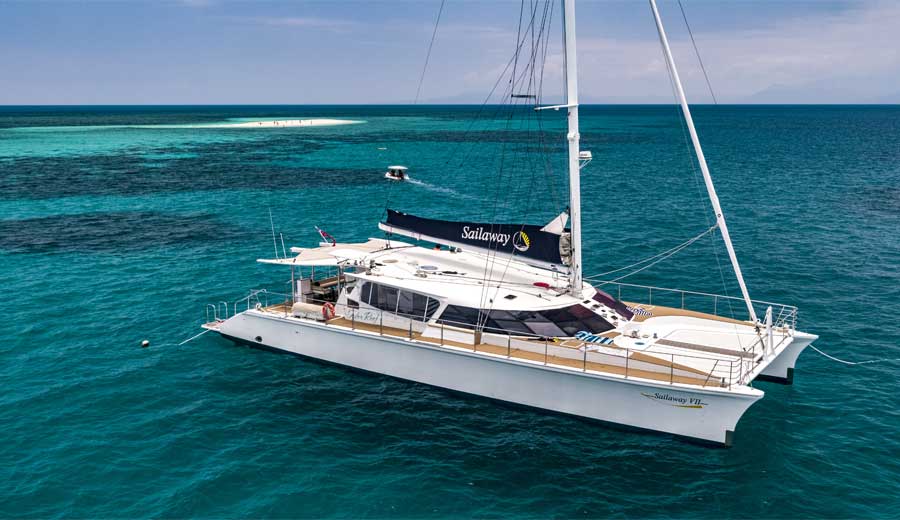 MACKAY CORAL CAY
The Coral Cays are pure white sand surrounded by a large fringing reef system and crystal clear water.
Sailaway is the only operator from Port Douglas who has access to visit Mackay Coral Cays. This exclusivity means we have the area to ourselves to explore without restrictions.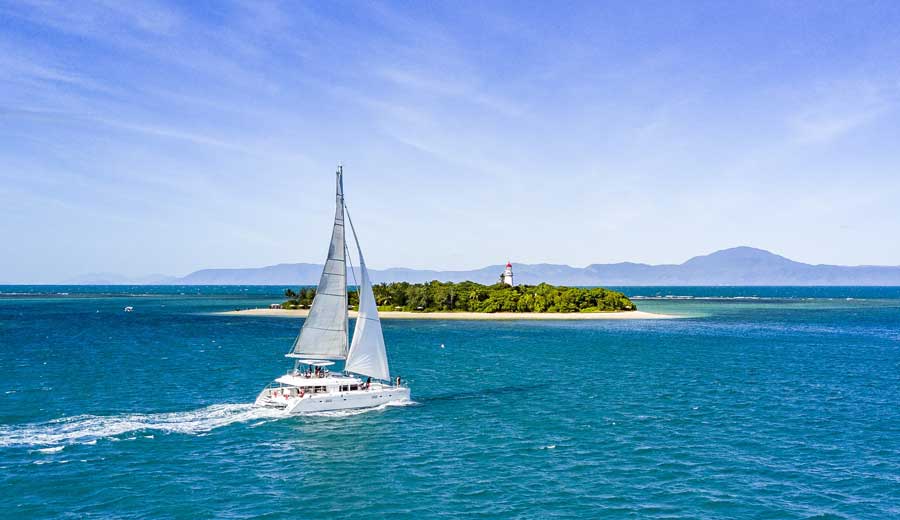 Low Isles
Low Isles is an idyllic Coral Cay island. The reef around Low Isles comprises 150 species of hard corals and is dominated by 15 species of soft corals.
Guests of Sailaway have the opportunity to snorkel in the lagoon of the island with our marine biologist, offering an interesting and informative tour.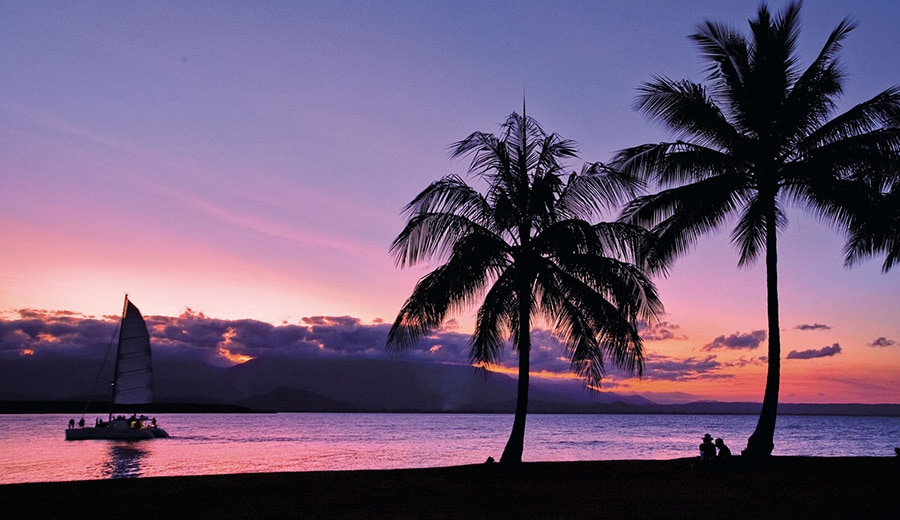 Sunset Sailing
Enjoy the thrill of pure sailing. A must do when visiting Port Douglas is to relax with an exhilarating cruise on board this first class sailing catamaran.
Soak up the peace and tranquillity of a tropical sunset over the Coral Sea as you sail along the coast off Far North Queensland.
Sailaway Loyalty Club
Receive 10% discount on your second Sailaway experience - simply contact our friendly reservations team to book. Conditions apply.