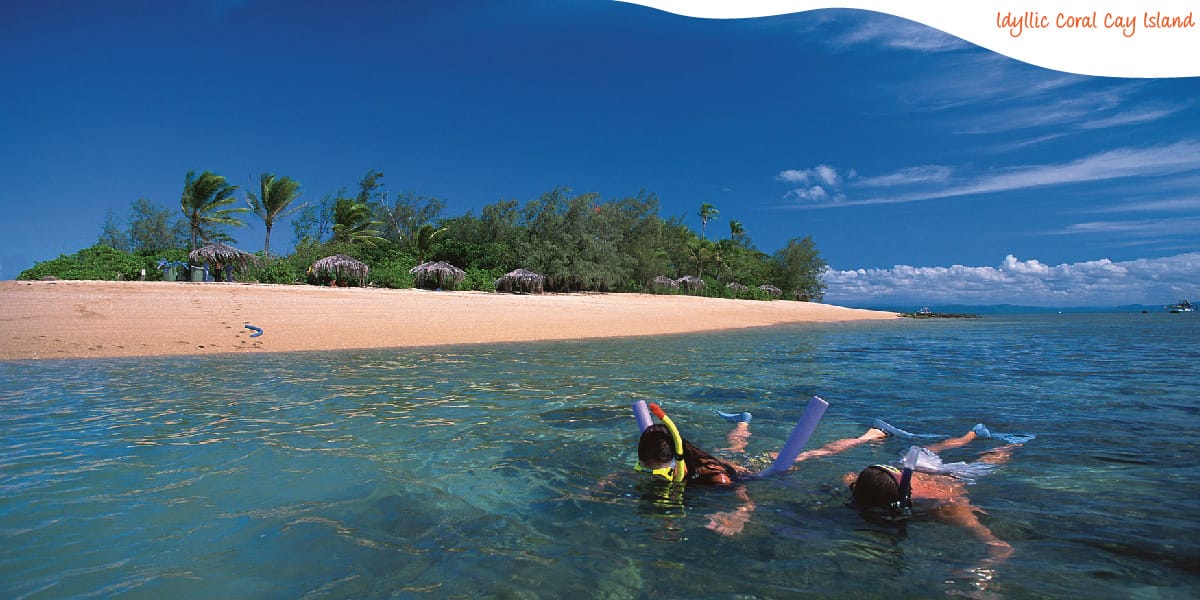 Low Isles - SAPM
Afternoon Sunset Low Isles Tour
At one with nature
Luxury sailing catamarans
Most sustainable way to visit the reef
Low Isles – Afternoon Sunset Tour
Idyllic Coral Cay Island and Sunset
Departs 1.00pm – 6.30pm
Adults only (minimum age 13)
Enjoy a later start to your day with a relaxed experience of the Great Barrier Reef with a snorkelling and sailing tour to Low Isles. Enjoy the island during the quiet time of day with a guided snorkel tour over the beautiful coral gardens by a marine biologist and swim with turtles in their natural habitat. Continue to enjoy your afternoon on the glass bottom boat with an interesting reef talk by our skipper and join our experienced guide to explore the history and nature of Low Isles with an Island Heritage Walk. Enjoy delicious light lunch, afternoon tea and a selection of canapés. Beverages are also included to top off the day. As the sun sets, enjoy the thrill of pure sailing on Sailaway V, a luxury Lagoon 500 sailing catamaran, with ambient music and spectacular mountain views of the Daintree Rainforest. This tour exclusively caters to adults and with a small number of guests, ensures personal attention and 1st class service.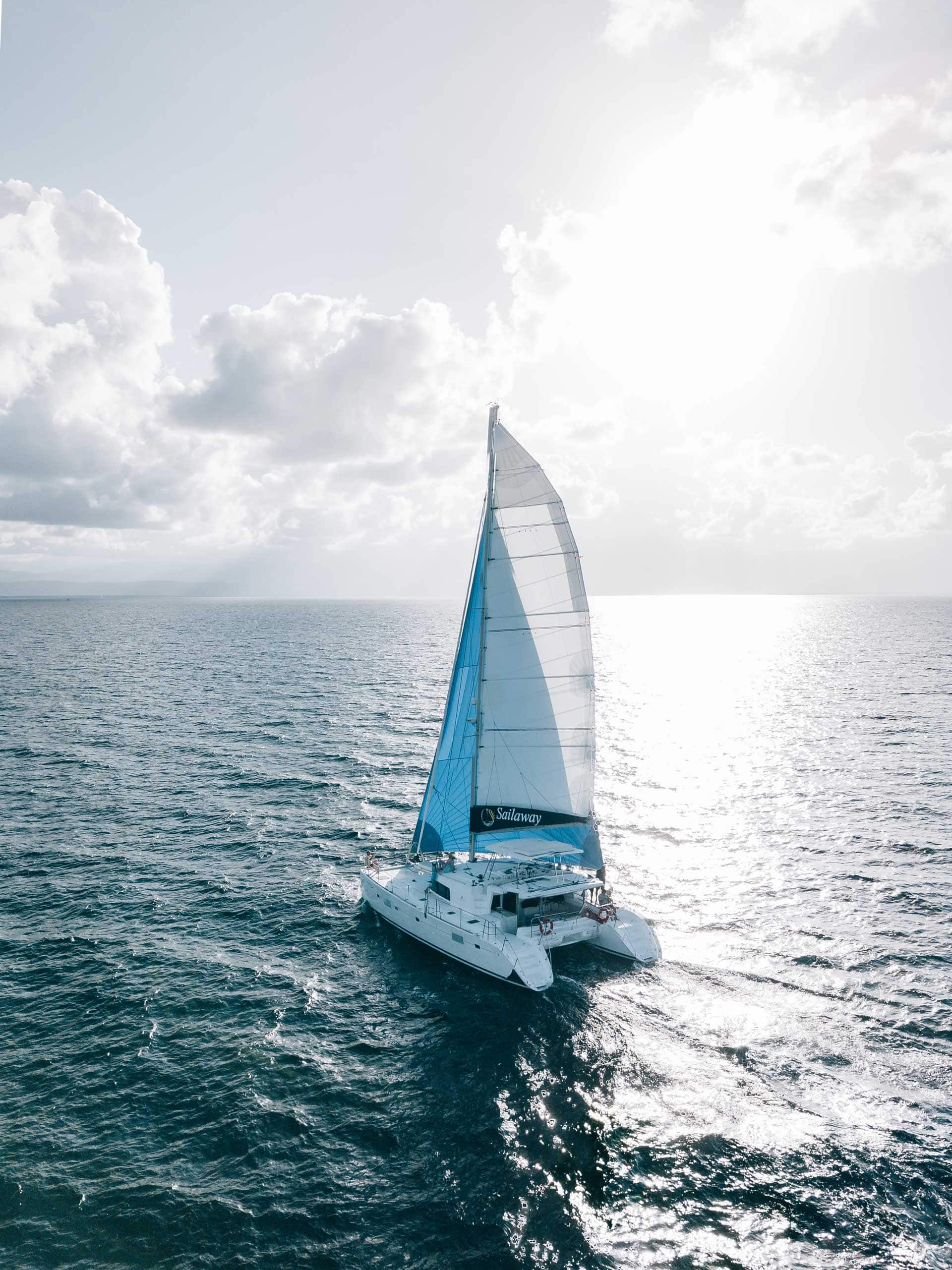 The reef around Low Isles comprises of 150 species of hard corals and is dominated by 15 species of soft corals. Living amongst the corals in the blue lagoon are a large variety of reef fish including angelfish, damselfish, anemones, giant trevally, sweetlip, fusiliers and many green turtles are sighted daily.
This beautiful island is steeped in history. The lighthouse was built in 1878 and was staffed by lighthouse keepers until it became automated in 1993. Weather data has been collected on the island since 1887 and scientific associations date back to 1928 when it was the base for a yearlong scientific survey which studied the structure and ecology of the surrounding reef.
Sailaway V
Lagoon 500 Catamaran
Sail on this beautiful Lagoon 500 sailing catamaran, which takes only one hour to sail to Low Isles. There is plenty of room to laze on deck and soak up the sun, or sit on the flybridge and chat to the skipper. This vessel is a high performance sailing vessel and moves smoothly and comfortably across the ocean, offering our guests a unique Great Barrier Reef experience in a sustainable and environmentally friendly way.
Take time to relax – Enjoy 1st class service!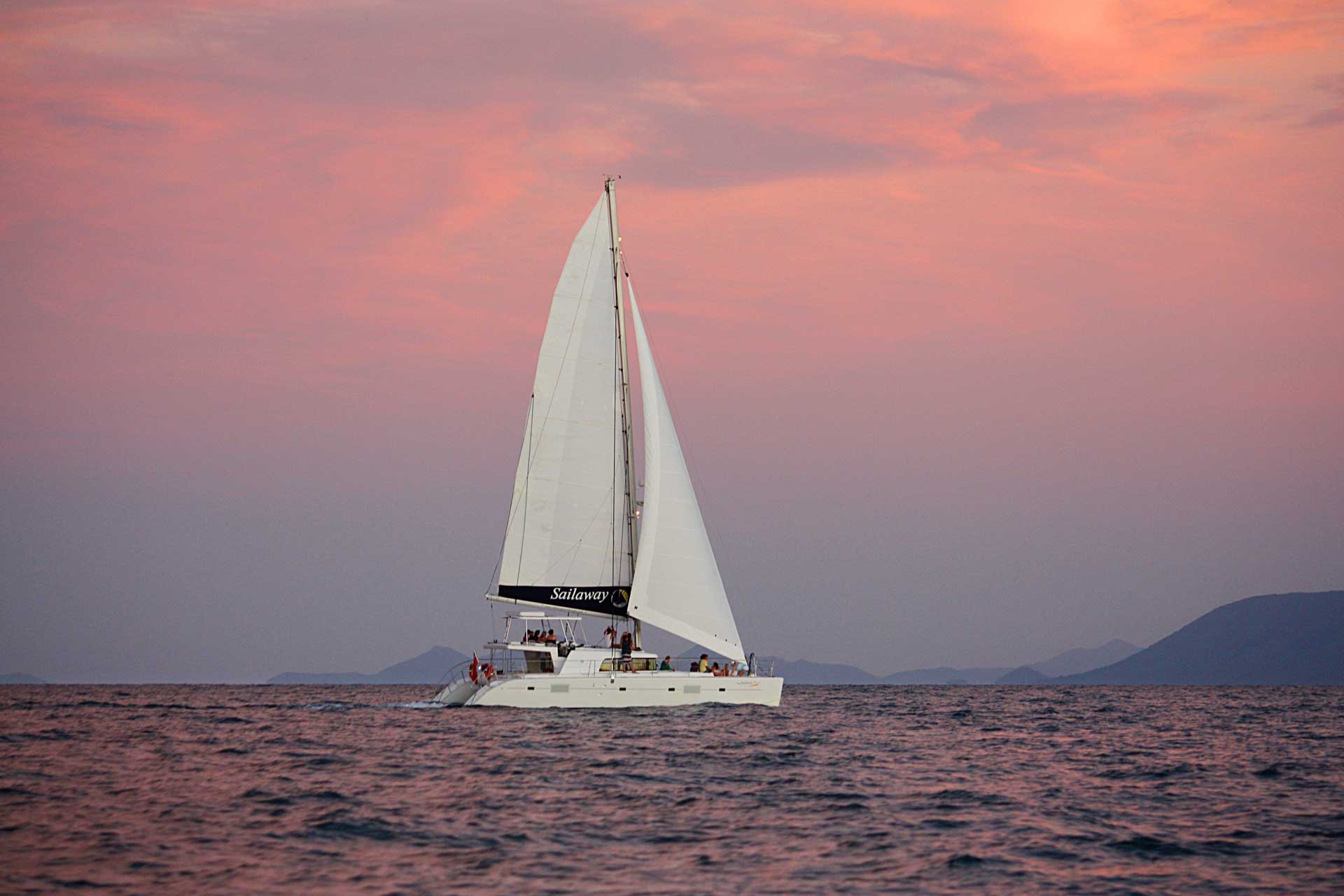 Included in your cruise
Courtesy coach transfers in Port Douglas area

Tea and coffee with light lunch on arrival.

All beverages included (Choice of beer, wine or sparkling wine)

Snorkelling equipment & optical masks

Seasonal lycra snorkelling suits & flotation devices

Snorkelling instruction and in-water assistance

Guided snorkel tour

Glass bottom boat viewing and reef interpretation

Low Isles Heritage Walk

2.5 hours at Tropical Low Isles

Afternoon tea and coffee with fresh homemade scones & fruit platter

A delicious selection of canapés

Spectacular Sunset Sail over the coral sea & views of the Daintree mountains

The experience of sailing on board a luxury sailing catamaran

Eco Shamba Environmental Initiative $20 to local re-forestation
This is an adventure tour suitable for travellers with good mobility. To participate in snorkelling you must be confident in the water with good swimming ability, as snorkelling can be a strenuous activity.
Itinerary
12.30pm
12.45pm

Boarding
Tea & Coffee with Muffins and sandwiches on arrival
Welcome & Safety briefing

1.00pm

Set sail. Depart Port Douglas
Sailing to Low Isles

2.30pm

Arrive at Low Isles
Snorkel safety briefing

2.45pm

Transfer to beach
Choice of Activities:

Swim and Snorkel over the coral gardens
Guided Snorkel Tour by Marine Biologist
Glass Bottom Boat Tour & Reef Interpretation
Heritage Walk on the Island
Bird Watching
Relax under a coconut palm tree on the beach
Enjoy prime quiet time on the island

5.00pm

Transfer back to Sailaway V
Afternoon tea & coffee with fresh scones/jam/cream
Fruit Platter

5.15pm

Set sail. Depart Low Isles
Sailing back to Port

5.20pm

Complimentary Sundowners served
(A selection of beer, wine & Champagne)

6.30pm
The Menu
Upon Boarding
Gourmet mini beef & black pepper pie
Half-size Roast beef, caramelised onion & salad wraps
Half-size Ham, cheese & salad wraps
Zucchini, corn & cheddar cheese tartlets
Mississippi mud cake slice
Mini Muffins
Afternoon Tea
Fruit pieces – Watermelon, Rockmelon, Honeydew Melon & Pineapple
Fresh baked Scones with jam & cream
Canapés served prior to departure from the island
French style finger sandwiches
Arancini balls w/ herbed lemon mayo
Hummus dip & Capsicum dip w/ crudités, salami, cheese, sliced baguette & crackers
Chicken & vegetable rice paper rolls
Thai fish cakes w/ cucumber & sweet chilli mayo
This menu is prepared fresh daily by our friends at On Deck Catering.
Vegetarian & Gluten Free Options available – must be pre-ordered.

What to Bring
Beach towel
Swimwear
Hat
Sun-shirt
Sunscreen
Camera
Sunglasses
A friendly smile and your consideration for this precious Marine National Park and World Heritage site
Booking voucher (if you booked via a tour desk or travel agent)
Cash

At check-in for the Environment Management Charge – see your confirmation document for details
For underwater camera hire – ensure you select this as an add-on to your booking if you would like to use it
VIP Upgrades
Add these luxury upgrades to your online booking and experience the best of Sailaway's service.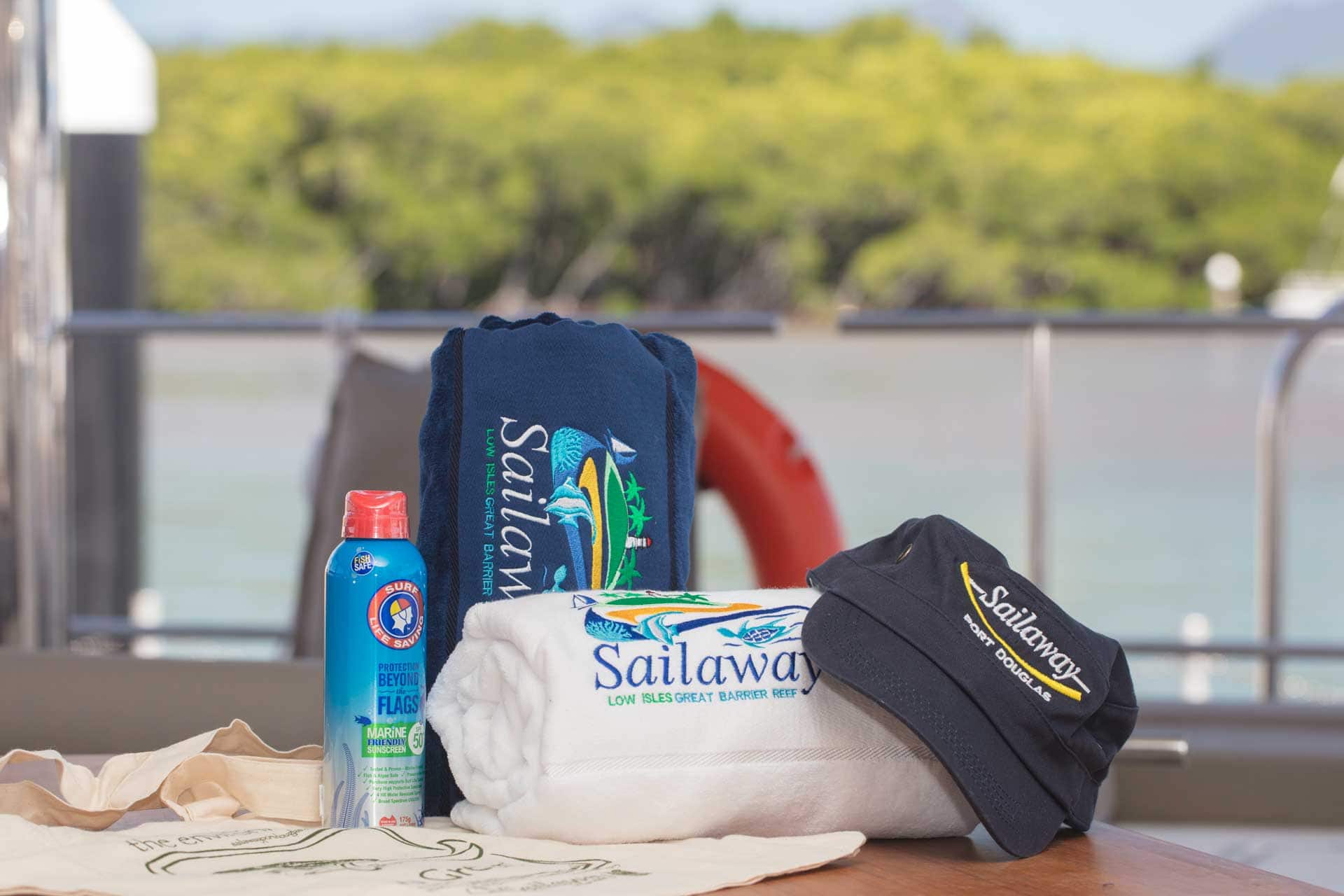 Enjoy a perfect souvenir of your time in the tropical sun with a quality embroidered Sailaway beach towel (navy or white) and sun hat, reef friendly sunscreen and re-useable calico beach bag. Presented at time of check-in to use and keep.
Celebrating a special occasion with family & friends? Treat yourself to a chilled bottle of French Champagne, Moët & Chandon (750mL). A perfect way to enjoy a memorable moment sailing over the Coral Sea. Served to you onboard the luxury catamaran with ice bucket and champagne flutes.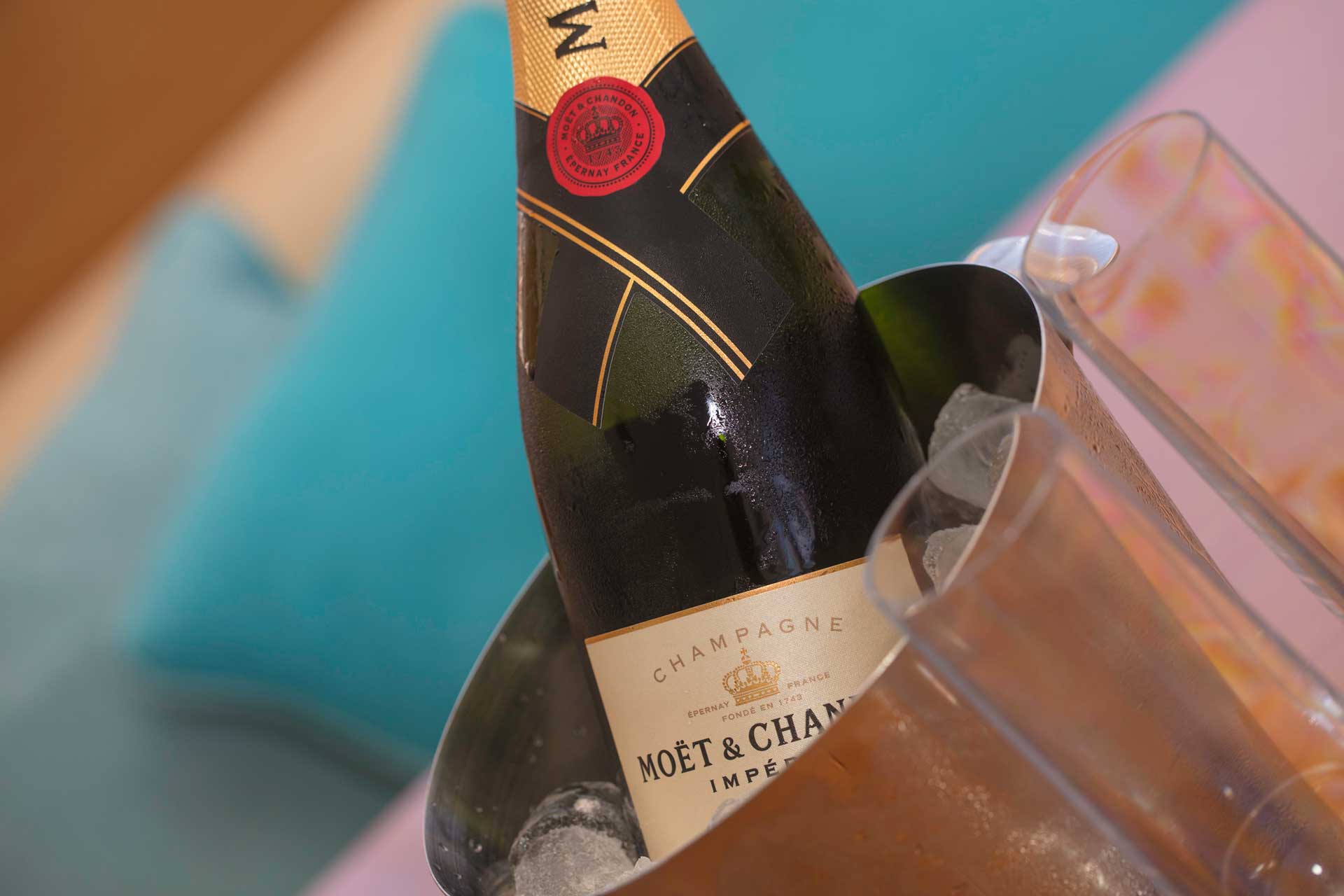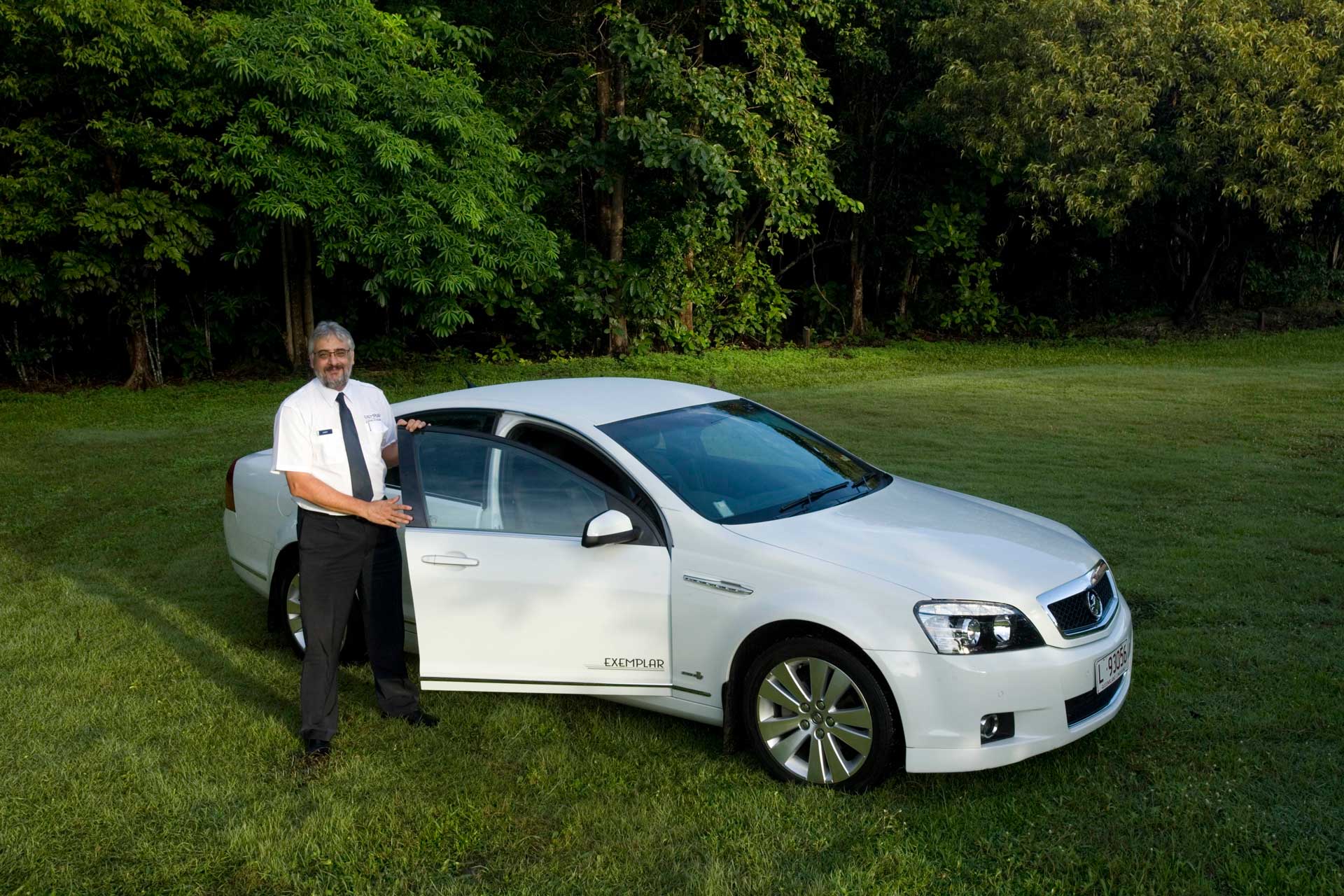 Private Chauffeur Transfers
Treat yourself to a private chauffeur return transfer, personally escorted from your accommodation to the Crystalbrook Superyacht Marina and Sailaway.
Discover Sailaway's Reef Destinations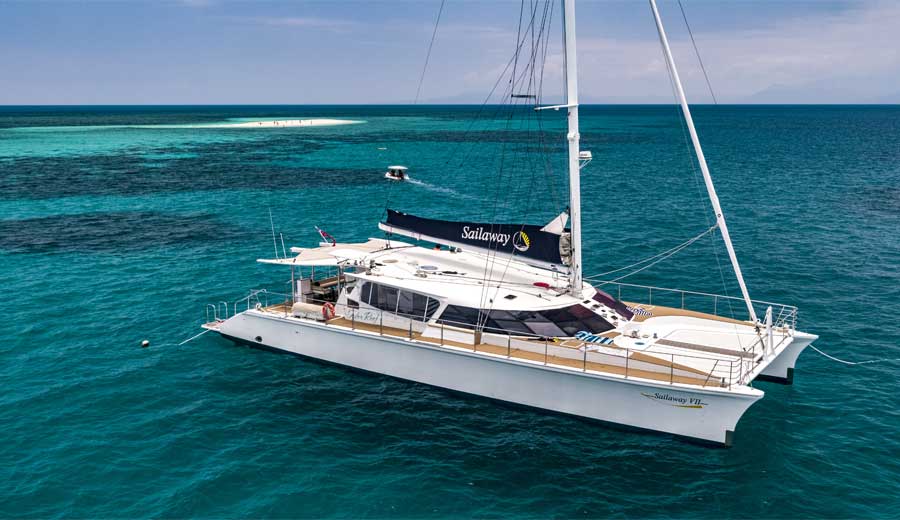 MACKAY CORAL CAY
The Coral Cays are pure white sand surrounded by a large fringing reef system and crystal clear water.
Sailaway is the only operator from Port Douglas who has access to visit Mackay Coral Cays. This exclusivity means we have the area to ourselves to explore without restrictions.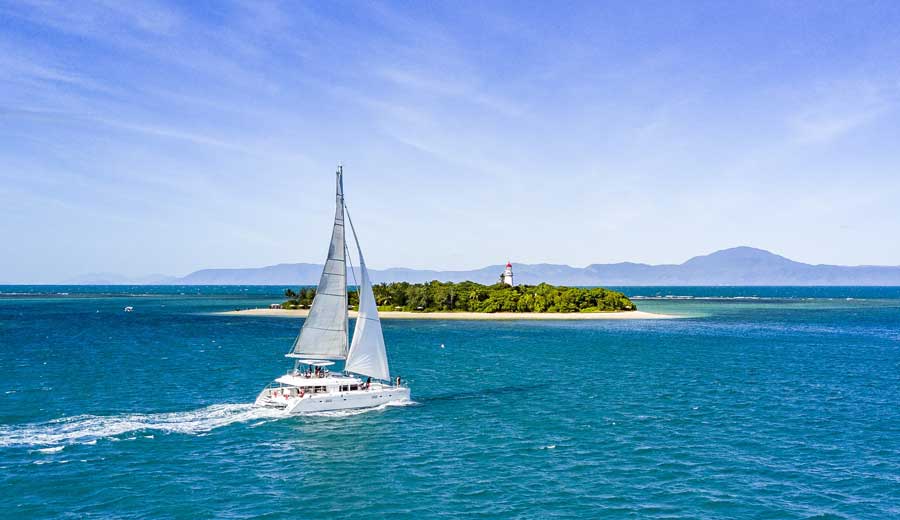 Low Isles
Low Isles is an idyllic Coral Cay island. The reef around Low Isles comprises 150 species of hard corals and is dominated by 15 species of soft corals.
Guests of Sailaway have the opportunity to snorkel in the lagoon of the island with our marine biologist, offering an interesting and informative tour.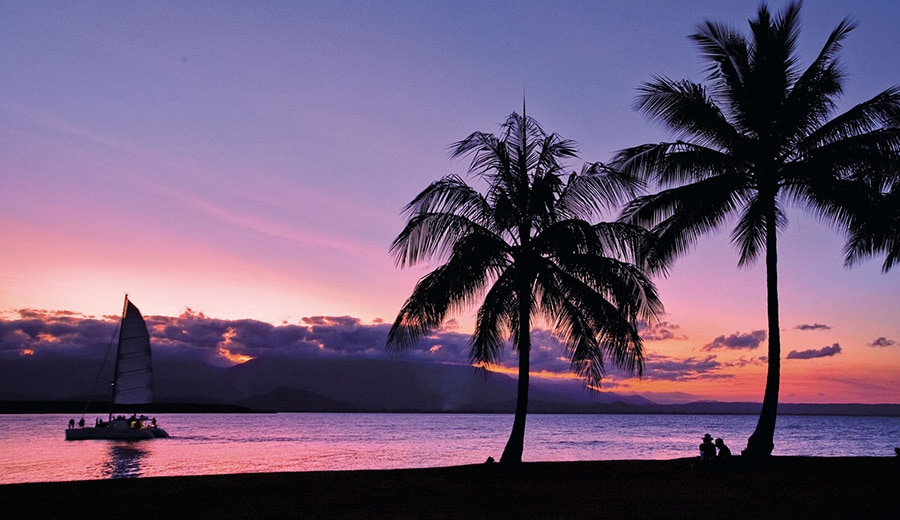 Sunset Sailing
Enjoy the thrill of pure sailing. A must do when visiting Port Douglas is to relax with an exhilarating cruise on board this first class sailing catamaran.
Soak up the peace and tranquillity of a tropical sunset over the Coral Sea as you sail along the coast off Far North Queensland.
Sailaway Loyalty Club
Receive 10% discount on your second Sailaway experience - simply contact our friendly reservations team to book. Conditions apply.